When we say I AM we are acknowledging ourselves as a Divine spark of Universal Energy whether we are aware of that or not. These two words are so powerful as they symbolize your connection to all that is and so what follows the I AM creates your reality...
We are all created by Divne Energy and our souls are having a human being experience through our physical bodies called life. The physical is made of up Mind, Body and Soul creating your reality. Positive Affirmations help to reprogramme your negative belief system that has been imprinted into your mind, so that repeating the positive I AM changes your state of being for you to experience life in a new way.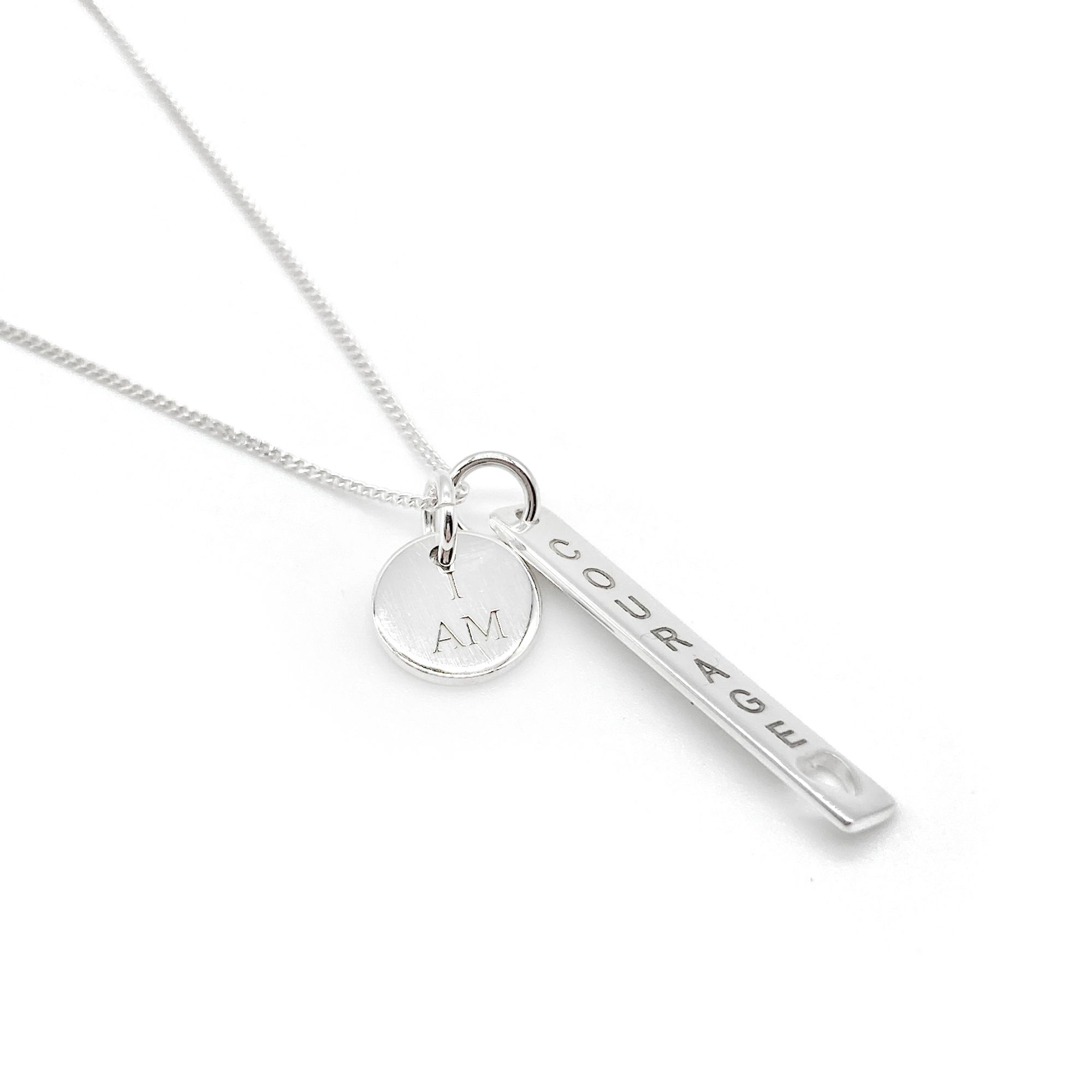 To help you on your journey we have created our I AM Affirmation Pendants for you to wear and work with. They are powerful tools that hold the vibration of Divine Love. Choose the affirmation/s that you feel will help you to change your beliefs and raise your vibration. You can collect and stack them up and work with as many as you feel guided to.
I AM Abundant - I AM Courage - I AM Divine - I AM Enough - I AM Love - I AM Safe - I AM Worthy
Affirmations reprogramme your mind...
Repeating an affirmation is a wonderful way to rebalance your thoughts from negative to positive. Remembering that we are energy beings and our thoughts are energy too. Negative thoughts overtake our way of exeriencing life in a low vibrational way and when we consciously repeat a positive affirmation we can switch our frequency to a higher vibration and experience life in a totally new way.
Imagine the negative thoughts and experiences that have held you back all this time just disappearing. Imagine feeling totally abundant so that you can live your dream life. Or being so courageous that you turn your life around and you never doubt yourself again. How about experincing life as your true Divine self, feeling connected to your inner heart knowing you are Divinty itself. Maybe its overcoming the sense of not being enough and you start to understand that this emotional pain only came from other peoples perspectives and it isnt who you are. It could be Love that you want to attract, to learn how to be love, give love and most importantly receive it! Afterall Love is what makes the world a better place. In this hectic world so many of us can feel unsafe, but knowing that it's our thoughts that create this feeling and that we are safe, changes everything. Releasing the emotional feeling of not being worthy is a big thing to do and is life changing because every soul on this planet is worthy of receiving.
Can you see that all of these negative thought processes that we have are brought upon by an experience in our life that was painful. We felt the pain which had an emotional impact and has been stored in the body as an emotional trauma.
CHANGE YOUR THOUGHTS AND YOU CHANGE YOUR LIFE!