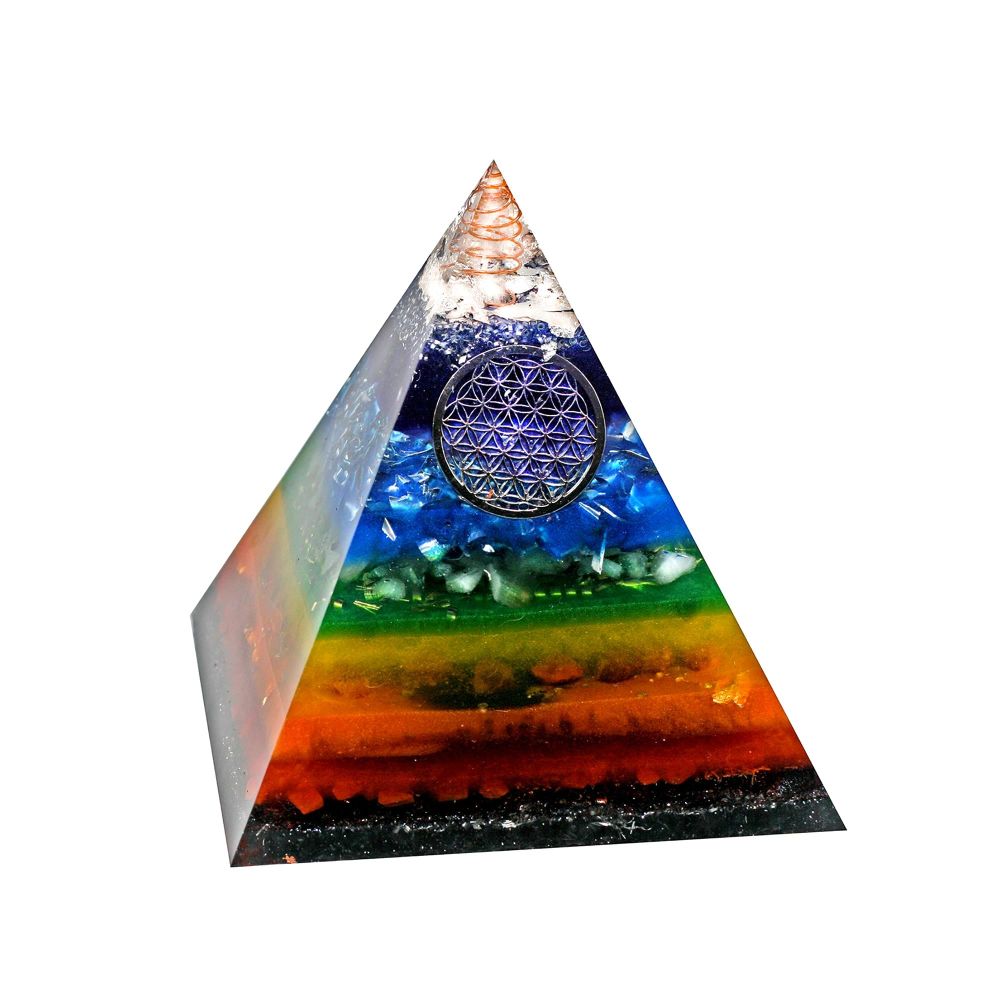 Orgonite Chakra Balancing Pyramid

A powerful Orgonite Pyramid to assist with transforming negative energy and providing protection against electromagnetic radiations, emanating from electronic items and high-tension wires

£87.00
SOLD Sorry you missed this unique piece
Each Pyramid is unique and created with love. I channel Divine healing energy into each piece for your highest good. When you receive your item there will be instructions on how to programme your pyramid for your personal requirements.
Size:
Each base length measures approx 14cm. Height approx 15 cm.
Materials:
Quartz Crystal Point, Brass, Aluminium, Copper, Magnetite, Selenite, Quartz Crystal Sand, Rose Quartz, Amethyst, Lapis Lazuli, Moonstone, Red Jasper, Carnelian and Russian Shungite. Resin, Silver Leaf plus Mica Powder: Orange, Green, Purple, Yellow, Green, Blue. At the base there is the Flower of Life symbol and 4 Singing Quartz Crystals to amplify the healing energy.
Description:
A Quartz Crystal Point intertwined with copper wire to amplify the crystal energy sits at the top of this energy filled pyramid to assist with cleansing and balancing the energy within your Chakra system. When our energy body is out of alignment we feel dis-ease and this is when illness both in the mind and body can occur. Being aware of your energy and consciously protecting and caring for yourself will empower you through life. This powerful healing tool will support you on every level and the energy of Magnetite and Shungite within will give ample protection against harmful EMF & 5g radiation.
Orgonite Pyramids are used to balance one's energy and harmonise the immediate environment with the benefits of:
Protection from harmful EMF – (elctro magnetic frequencies) given from cell-phones, cell-phone towers, smart meters, computers, televisions, microwaves etc.

Improvement of mood

Improve overall wellbeing

Helps to relieve stress and improve sleep patterns

Raise the vibration frequency around the home and workplace

Deeper connection in meditation

Releases negativity within the environment
Clear Quartz is the most powerful healing and energy amplifier of the planet and are revered as the supreme gift of Mother Earth. It is a master healer and assist in bring the body into balance. Some believe that the Clear Quartz are living beings, incredibly old and wise and impart wisdom when an individual is open and ready to receive.
The Quartz can be programmed to assist you in reaching your highest potential in the physical. It may accelerate the fulfilment of your prayers with its intense powers to also accelerate healing and manifesting of your dreams. Holding a quartz crystal in your hand will double your bio magnetic field. It is the most efficient receptor for programming.
Singing Quartz Crystal are powerful for their size! They are often used for getting stagnant energy moving and smoothing out and shaping energy fields. As a powerful quartz, the Singing Crystal when rubbed together makes a tonal sound, said to of the OM vibration. A prominent quality of the Singing Quartz is its ability to facilitate communication on multiple levels, both terrestrial and celestial.
A stone for hope and new beginnings with one's connection to Divine universal oneness – OM.
AmethystQuartz is a high vibration quartz crystal linked with the crown chakra and is thought mostly as a protective stone. It is believed to purify the mind and assists with clearing negative thought patterns that create stress and anxiety and will help to centre your emotions. As the stone of abundance Amethyst can be very helpful with work related stress.
A powerful quartz that assists with protecting you against any psychic attack, as it will transmute it into love. Known for its quality in enhancing higher states of consciousness and spiritual awakening many meditate with Amethyst to enhance their connection to source.
Rose Quartz is known as the crystal of unconditional love. Its powerful energy stimulates the heart centre and teaches the essence of true love. Whether you are going through a broken heart, want to attract more love into your life or heal a situation that needs love, then Rose Quartz is the crystal for you.
Magnify love energy in your life with this amazing quartz; the energy of love lowers stress and soothes your soul. Rose Quartz is also one of the best crystals to enhance positive self-affirmations.
Lapis Lazuli is a universal symbol of wisdom and truth. A powerful crystal for activating the higher mind and stimulates a desire for greater learning and understanding and is said to be an excellent stone for memory improvement. Blue Lapis Lazuli connects you to your throat chakra and is a potent crystal to help clear any blockages, helps you to express yourself in truth and speak with kindness.
A deeply positive crystal, Lapis Lazuli dispels negative thoughts and helps you to see the good in others, it enhances your compassionate side and helps you see the glass as half full. Changing your thoughts from negative to positive diminishes stress and anxiety created by negative thought patterns. Lapis Lazuli helps to bring harmony into friendships and relationships and can be beneficial in the home as it brings calm and loving communication with temperamental teenagers or children with Asperger's syndrome, autism, or attention-deficit disorder.
Moonstone Crystal is associated with the inner goddess and is a symbol of fertility and sensuality. A deeply empowering crystal, Moonstone can assist in clearing all negative thoughts of self so that you feel empowered from within. It opens the heart centre for you to truly connect with your inner heart and reminds you not to push against the tide but to go with the flow of life. Moonstone strengthens your spirituality and is a crystal to heal the world through the vibration of love, let life unfold naturally trusting that your inner goddess is guiding you.
Due to its connection to the moon, this is the perfect stone to help sooth emotions during that time of the month and can assist in balancing hormones.
Carnelian Crystal is known as the stone of motivation with its bold and vibrant energy that is warm and empowering. As the motivation stone, Carnelian is a talisman for success in business and the workplace as it stimulates your ambition and drive to succeed. Hence also known for its healing energy to give power to the voice.
Ancient warriors wore Carnelian to conquer their enemies as this stone gives you strength and courage. It has the power to balance and boost your bodies energy levels supporting those in physical exercise and helps with co-ordination. A stone to work with the heart centre, Carnelian is important to help with any matters of the heart and can assist with fertility.
Red Jasper is connected to the Base Chakra and its attributes support this vital energy centre giving stability, strength and protection; and can aid the process of raising the kundalini. A true sense of wellbeing comes from Red Jasper as it supports you, helps to calm the nerves and can assist in setting boundaries in all areas of your life for you to deal with challenges as they arise with confidence. Jasper builds confidence and reduces insecurities.
Red Jasper will help to stimulate energy and increase stamina and is an excellent stone for people with hard physical regimes.
Selenite Crystal has a pure high vibration with the ability to cleanse, purify and align you with your highest potential. It opens the crown chakra to allow information from higher dimensions to flow.
It in-stills deep peace and is excellent for meditation. It radiates purity and connects you with the angelic realms. It is one of the most powerful crystals for the new earth. Selenite helps with releasing feelings of anxiety, fear, anger or grief as these are negative vibrations.
Magnetite Crystal has powerful grounding properties and as its name suggests it is a natural magnet gift from Mother Earth. The negative-positive aspect of this crystal will assist in bringing an overactive energy system into alignment and grounding those energies through your star chakra into Mother Earth. An energy that will protect you and keep negative energies at bay.
A potent stone for manifesting your dreams and desires along with its impressive capacity to balance the hemispheres of the brain. Its magnetic qualities assist you in having a more balanced view of life and will help to lighten the load and ease any burdens.
Shungite is a natural healer and energy stabilizer. Known to help protect you from geopathic stress and from EMF radiation. It is a powerful healing mineral. When added to orgonite, these properties are enhanced even more. Shungite is cleansing, grounding, balancing and purifying.
** We suggest that you place your pyramid in the room of your choice or hold in your hands whilst meditating to increase your Chi (Life Force energy) and enhance and balance your auric energy field.
Orgonites are excellent tools if you work within an environment that is full of electrical equipment. Protect